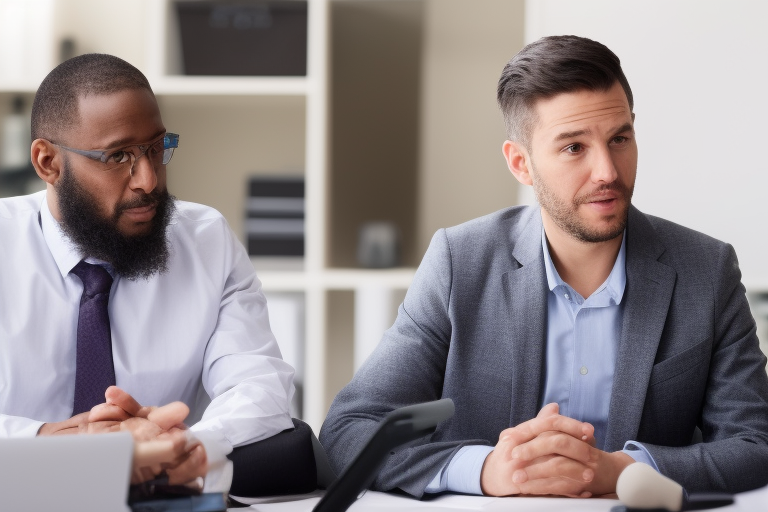 Finding reliable and hard-working employees is tough these days. But, the process can be simplified by writing an effective job description.
A job description is a detailed description of a potential employee's responsibilities. Today, one can easily generate a job description via an AI writer or ChatGPT. This only requires you to input the key factors of the job description template, as shown here.
But what is a job description template, and where to get an efficient job description template? No sweat. This article comprises the definition, benefits, and some key factors of a job description template, along with 12 job description template examples for your reference!
What is a job description template?
The job description template is a reusable model which summarizes the duties, responsibilities, tasks, functions, qualifications, and skills for a role or position. What's more, the job description template can be a powerful tool under the recruiters' belt, which baselines the candidates' or applicants' information/resumes.
Benefits of using job description templates
A job description template will help save time while covering all the factors required to create a compelling, detailed, and complete job description. Furthermore, using a job description template, you can reap the following benefits.
Ensures complete information
Using a job description template ensures that all the information is provided. This task becomes even more effortless with Chatsonic, an AI tool that can help generate more than one compelling job description.
Makes the information conceivable
Following the roles and responsibilities template helps present the information in a manner that is familiar and easy to understand by the candidates.
Provides inspiration
Using the template for roles and responsibilities provides you with an idea about what you need, along with an opportunity to think about it further.
Makes an attractive job advert
Using a job description template helps create an irresistible job description, one that underlines the best parts of the role or position and highlights the positive working environment of your company.
Clarifies expectations
Using a job description template helps clarify your expectation of the candidates by providing all the information.
Provides detailed structure
It provides a detailed structure, one you can update and refine the description as per your company voice, branding, and professionalism.
Factors to consider when creating a job description template
To create an effective job description that attracts ideal candidates consider the following factors.
Purpose of the job
Including a summary of the job provides a better understanding and an 'aerial view' of the role. Mentioning the job's purpose also highlights a concise explanation of why the job or the particular post exists.
Duties and responsibilities
This section contains all the descriptions of responsibilities and duties associated with the job post, including the expected roles the candidates are required to take up.
Previous experience
This part mentions about experience level required for the job post, whether it is an entry-level which requires no previous experience or is it a senior-level post that requires specific years of experience.
Qualifications
Mention the level of education and knowledge (i.e., high school, college, or advanced degree) required to do the job. Focus on the minimum level of qualification for a candidate to be productive and succeed in the role.
Special skills
Mention the special skills a candidate needs to do the job, such as basic knowledge of spreadsheets and ms office, ability to work with adobe software, and others.
Job requirements
Candidates must be informed of the crucial job requirements before applying for the job. For instance, mention if the individual is required to migrate or if they need to travel out of stations on a weekly basis. Since not many will be able to do the aforementioned tasks, being upfront requirements will weed them out and save you time.
Working hours and payments
Specify the working hours required per week, day shifts or night shifts, as well as the type of job, such as part-time or full-time. Also include wages indication, list hourly wages if the post is an hourly position, and if the post is salaried, then mention any general wage range or term it as 'Salary will be commensurate with skills and experience.'
Personal attributes
Look for individuals with additional qualities that can help with a successful job, such as someone with a calm temper to deal with difficult times, the ability to work efficiently under pressure, or able to multitask in a busy environment.
12 Job description examples
We have compiled 12 job description templates examples to attract an ideal candidate for the job.
Senior project manager
We are looking for a highly efficient senior project manager to supervise the successful execution of projects through critically planned steps, meet budgetary requirements, and locate resources for the project. An ideal candidate for senior project manager must have the ability to manage all aspects of the project simultaneously.
Roles and responsibilities:
Create a planning schedule and establish goals for the project.
Secure and set funds and budgets for the projects.
Manage and ensure that tasks are completed by the team members.
Procure necessary resources as per project requirements.
Identify personnel needs for further training and provide training.
Research industry-related trends and innovation and have in-depth knowledge of project needs.
Manage, monitor, and evaluate employee performance.
Requirements:
A degree or formal training in project management or a related field.
5-6 years of experience in project management.
Excellent communication and organizational skills.
Strong leadership, scheduling, and management skills
Ability to multitask.
Well-versed in Microsoft office.
Software engineer
[Company name] is recruiting innovative and skilled software engineers who will work with the talented team and be responsible for working on projects for developing software the company is developing. An ideal candidate should have a good knowledge of code and script writing and be proficient in current app-based platforms such as Apple IOS, Android, and more.
Roles and responsibilities:
Work closely with the clients and team.
Discuss with the design and management team regarding the project statuses and proposals.
Analyze and revise data for effective coordination of new system installation, and make modification adjustments to the existing systems.
Be present during the conference (online or offline) to discuss key project data with team members and to build cohesion among other teams.
Apply standard operating procedures and document the process clearly and conceivably.
Requirements:
A bachelor's degree (preferred) in software engineering.
7+ years of working experience in software development (preferably in a related field).
Extensive knowledge of using relevant tool suites.
Ability to work independently and in a group.
Hands-on programming experience and creative problem-solving skills.
Ability to prioritize workload while being within budget and meeting deadlines.
Web developer
[Company name] is looking for an adept web developer who is willing to work alongside our expert team of developers responsible for creating, maintaining, and updating the company's websites. To succeed in this role, the candidate must be up-to-date with the web's latest trends and features while being well-versed and experienced in programming applications, JavaScript, HTML, and CSS.
Roles and responsibilities:
Building, designing, or maintaining websites and software applications.
Work closely with different design team members to resolve conflicts, prioritize needs, and develop content criteria.
Stay updated on all the latest Web applications and programming practices.
Evaluate code to ensure that current and previous systems stay bug-free.
Requirements:
A degree or formal training in Web development or a related field.
4+ years of experience in web designing and development or relevant field experience.
Knowledgeable in JavaScript, HTML, CSS, etc.
Dedicated and self-motivated individual who can lead a team project to success.
Should have excellent interpersonal and communication skills.
Digital marketer
[Company name] startup needs a skillful digital marketing manager with a proven record of executing digital marketing campaigns to supervise our marketing needs. Our ideal candidate is a bright and enthusiastic individual with experience in marketing, art direction, and social media management. In addition, the successful applicant should possess excellent interpersonal and communication skills and hold a solid knowledge of website analytics tools.
Roles and responsibilities:
Creating, planning, and managing the company's social media presence.
Designing and monitoring all aspects of the digital marketing department.
Developing and overseeing marketing campaign budgets.
Analyze important metrics and coordinate with advertising and media experts to refine marketing.
Work closely with your team to brainstorm creative and innovative marketing growth strategies.
Requirements:
BS/MS degree or formal training in marketing or relevant fields.
Minimum of 4 years of proven working experience as a digital marketer.
Solid knowledge of different social media platforms, best practices, website analytics, and HTML, CSS, and JavaScript.
Creative problem-solving and analytical skills.
Familiarity with the latest trends and technologies in digital marketing.
Maintenance worker
We are looking for a maintenance worker who is proficient with power and hand tools and can read blueprints and repair manuals.
Roles and responsibilities:
Diligently conduct routine inspections of the equipment and site.
Perform basic repairs and preventive maintenance.
When professional repairs are needed, supervise the contractors.
Recognizing mechanical issues and promptly fix them.
Requirements:
High school diploma or related degree from a technical college.
Ability to read blueprints and repair manuals.
Proficient with various hand and power tools.
Familiar with common tools such as hammers, hoists, saws, drills, and wrenches, and experienced with electronic testing devices.
Professional presentation and attitude with strong time management skills.
Ability to work independently.
Sales representative
[Company name] is looking for ambitious and goal-oriented sales representatives. They will be responsible for generating prospective leads and meeting sales goals. To be successful sales representatives, candidates must understand the sales process and dynamics through previous work experiences.
Roles and responsibilities:
Generate prospects.
Create and prioritize strategic sales goals.
Negotiate contracts with prospective clients via a series of outbound calls and email campaigns. You generate a quick email with an AI email writer.
Maintain detailed records of clients and activity in Salesforce CRM of sales and marketing programs.
Prepare monthly and weekly reports, and develop your skills to reach your performance quotas each month.
Good interpersonal skills.
Requirements:
Bachelor's degree from an accredited University in Marketing or Economics or a related field (preferred).
3+ years of sales experience.
Commendable communication skills and commitment to customer service.
Proficient in using computers for various tasks, including Microsoft applications such as word, excel, and outlook.
Self-motivated and competent enough to work in a fast-paced environment efficiently.
Human resources manager
We are looking for a reliable HR manager to take ownership of all HR matters, including recruitment, disciplinary action, performance reviews, wage reviews, learning, and development. The hiree is expected to lead the HR team and constantly expand the workforce. An ideal candidate should be in HR management or any other senior role and be well-versed in all legal requirements of this role.
Roles and responsibilities:
Consistently recruit and train excellent staff.
Create and develop concise reports and clear policies.
Maintaining workplace health and safety compliance and promptly responding to employee complaints and conflicts.
Carry out necessary administrative duties and maintain employee and workplace privacy.
Lead the junior HR team.
Requirements:
Bachelor's Degree in Human Resource Management.
5+ years of experience in HR management or related fields.
Well-versed in MS Office.
Ability to train and coach staff.
Experience in resolving conflict, enforcing disciplinary processes, and conducting workplace investigations.
Fluent in giving presentations.
Proficient in using computers for various tasks, including Microsoft applications such as word, excel, and outlook.
Graphic designer
[Company name] is looking to add a new Graphic Designer to the design team; they will be responsible for designing a wide variety of things across digital as well as offline media. An ideal candidate should be competent enough to deliver creative ideas and show attention to keen detail.
Roles and responsibilities:
Meet directly with the clients and sales team to communicate and work on ideas and draft a final design to be approved by the customer.
Plan concepts based on relevant information.
Utilize all software and hardware assets to create a wide range of graphics and layouts.
Maintain documentation of all orders and suggest improvements when necessary.
Requirements:
Bachelor's Degree in Digital Art, Graphic Design, or a related field.
2-3 years of working experience as a graphic designer or in a related field.
Meet deadlines.
Time management skills.
A proficient knowledge base of industry software such as Photoshop, InDesign Quark, and Illustrator.
Positively receives constructive criticism.
Data analyst
We are looking to hire a technical expert and a data analyst to provide analytical support to team members of the company. They will be responsible for managing our master data set, evaluating reports, and resolving data issues. To succeed in the role, candidates must pay attention to details and understand popular data analysis tools and databases.
Roles and responsibilities:
Analyze results utilizing the statistical technique.
Process data from primary and secondary sources via automated tools.
Make data-driven decisions after consulting with internal team members.
Develop and maintain data systems and databases to make visualizations for audience metrics.
Requirements:
Bachelor's degree in computer science.
Work experience as a data analyst and in creating data visualizations.
Strong and clear communication and reporting skills.
Account manager
We are in need of communicative account managers who are flexible, adaptable team-player, and have no problem moving from task to task autonomously. The candidates will be responsible for building long-lasting and mutually beneficial relationships with their contacts and finding the products that best suit the client's needs. An ideal candidate should have exceptional problem-solving, computer, and communication skills.
Roles and responsibilities:
Communicate and assist with client onboarding.
Attended weekly update meetings to expand knowledge of company products and services.
Create and maintain clear records of inventory and account notes.
Focus on improving the buyer experience.
Requirements:
Bachelor's degree in communications, business, or a related field.
More education or experience is preferable.
Exceptional organizational and communication skills.
Special attention to detail and ability to multitask.
Front desk agent
We are looking to hire an upbeat and confident individual for the role of front desk agent at [Hotel name]. The candidate will be responsible for communicating and overseeing the guests with their inquiries, problems, and complaints. They should be skilled at multitasking in a fast-paced environment.
Roles and responsibilities:
Welcoming guests in a friendly manner.
Thanking the guests when seeing them off in a sincere manner.
Attending to guests' needs and resolving their problems and complaints.
Carry out the computer tasks at the front desk efficiently.
Communicate with the guest in a friendly manner and ensure their satisfaction.
Requirements:
1-2 years of working experience as a front desk agent.
High school diploma.
Excellent written and verbal communication skills.
Ability to stand for extended periods.
Outstanding team player.
Must hold a well-groomed and professional appearance.
Technical account manager
[Company name] is looking to hire a tech-savvy technical account manager to oversee the customers' technical needs. The candidate will be responsible for professional service before and after the sale٫, ensuring customer satisfaction. An ideal candidate should have excellent technical knowledge, as well as sales ability and interpersonal skills.
Roles and responsibilities:
Provide technical support to the customers' pre-sales and post-sales, as well as train customers to use the products.
Maintain a good customer relationship to ensure customer satisfaction.
Review and suggest upgrades or additional features as per customers' needs.
Build best practices and accurately track account metrics.
Requirements:
Minimum 4 years of experience as a technical account manager.
Master's degree in Computer Science.
Familiar with well-known sales software.
Proficient in MS Office.
Strong communication skills.
Conclusion
Job description template improves the chances of attracting reliable candidates by helping you create a complete, concise, and carefully crafted job description, ensuring it doesn't fall short. However, if you are unsure, then refer to the 12 job description examples shared in the article above, or take help from an AI writer to generate an exceptional job description. Also, let us know how you prefer to write a job description.
Frequently Asked Questions (FAQs)
What is the purpose of a job description?
One of the main purposes of the job description is to explain the requirements and responsibilities of a position or post within an organization. It enlists a detailed list of requirements needed for satisfactory performance of the job, such as skills, knowledge, abilities, and other characteristics.
What makes an effective job description?
An effective job description should have the following:
Job title in summary.
Highlight the reason and structure for the position in summary.
A list of 'roles and responsibilities enlisting the tasks associated with the job.
A list of 'requirements' enlisting the preferred qualification, experience level, and other attributes and skills.
Should I include a salary or hourly pay in the job description?
There is no one accurate answer for that since there are pros and cons to both options. Thus, ultimately, you should decide based on what is best for your company.
How can I use ChatGPT to create a job description template?
ChatGPT is an AI chatbot tool that allows you to have a human-like conversation, which can help with the composition of a compelling job description. All it requires is for you to ask for its assistance by inputting your command. You can say, 'write a job description for [Job post] at [company name]' or something along those lines. However, there are other ChatGPT alternatives that you can try.