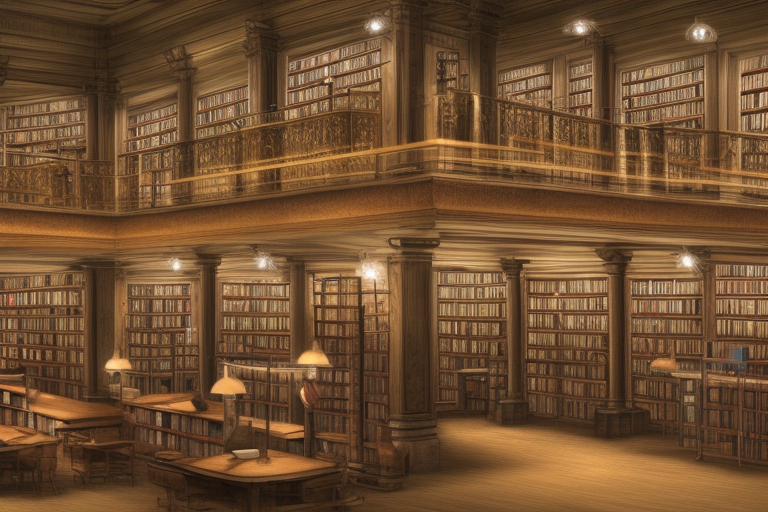 You know that feeling when you've got the latest AI chat tools like Chatsonic, ChatGPT, Midjourney, or DALL-E at your fingertips, but you just can't find the right prompt to make the most out of them?
Ah, that feeling!
It's the same as having the keys to a supercar but not knowing how to drive, right?
That's where AI prompt marketplaces come in, providing you with the ultimate road map to rev up those AI engines and hit the highway to success.
But what is an AI prompt marketplace?
An AI prompt marketplace is a digital platform for buying and selling prompts for Chatsonic, ChatGPT, DALL-E, Midjourney, and various other AI tools. If you are looking to unleash your creative wizard with this cutting-edge technology, you're at the right place! This blog post covers the 6 best AI prompt marketplaces you should know about in 2023.
And guess what? This AI revolution introduced many new things, one such being the role of a prompt engineer. ✨
So, let's understand who is a prompt engineer in a better way.
Understanding the role of a prompt engineer
A prompt engineer is someone who can come up with mind-blowing prompts to input into tools like ChatGPT, Chatsonic, Midjourney, and more to generate the desired output.
Let's check this out in a different way.
The artist of tomorrow won't be armed with a paintbrush or pen but with the skill to craft captivating AI prompts that unleash the full potential of AI tools. It's a subtle art, transforming ideas into prompts that yield the desired results – and it's becoming big business.
Turning ideas into prompts that generate jaw-dropping results is no easy feat, but those who excel at it are set to disrupt the content creation world and cash in on the AI gold rush.
Time to say goodbye to the thought of "how to write a prompt" and shake hands with the prompt toolkit. 🤝
Why do you need a prompt library?
Boost productivity: A well-organized prompt library saves time and effort by providing instant access to a vast collection of AI prompts, streamlining the content creation process and making it more efficient. 🚀
Enhance content quality: With a diverse range of prompts tailored for various purposes and industries, a prompt library can help you generate more relevant, engaging, and high-quality content that resonates with your target audience. 🎯
Spark creativity: Exploring a prompt library can inspire new ideas and novel approaches to your content, allowing you to think outside the box and create unique pieces that stand out in the digital landscape.💡
Foster collaboration: Prompt libraries can act as a hub for creators to share their best prompts, exchange insights, and learn from each other's experiences, fostering a sense of community and collaboration among users.🌐
Helps to improve ROI of AI tool: By providing a wealth of expertly crafted prompts, a prompt library can help you make the most of your AI tools, unlocking their full potential and ultimately enhancing the return on your investment in AI technology.📈
6 best AI prompt marketplace you should check out in 2023
Chatsonic Prompt Library
AIPRM
PromptBase
ChatX
FlowGPT
PromptHero
#1 Chatsonic Prompt Library
Your search for a free prompt marketplace ends here! 🤩
Introducing Chatsonic AI prompt library - the ultimate collection of AI prompts contributed by users like YOU to help other users. Get ready to level up your content generation process with the best AI prompt marketplace.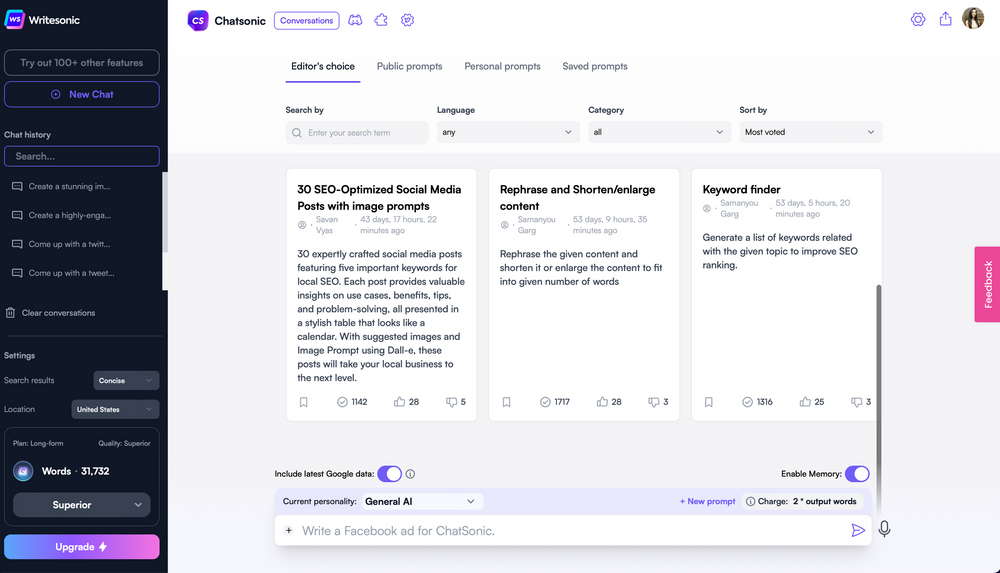 Chatsonic Prompt Library
Chatsonic's AI prompt library covers a wide range of AI prompts that can help you to generate anything you want.
And guess what? You can make your own prompt and get a chance to earn 20,000 words on Writesonic/Chatsonic.
In addition, Chatsonic AI prompt library is like a free alternative to AIPRM, and you don't need an extension to use the AI prompts. Isn't it amazing? 🤩
Have a look at the features of the Chatsonic AI prompt library:
Versatile AI prompts: Whatever you're looking to create, Chatsonic has got you covered with a diverse collection of AI prompts designed for every need. 🎯
Create and earn: Got a brilliant prompt idea? Share it with the Chatsonic community, and you could earn a generous 20,000 words on Writesonic/Chatsonic! 🎁
Cost-effective alternative: Looking for a free AIPRM alternative? Chatsonic AI prompt library is the answer! 🌟
No extension required: Keep things simple and user-friendly – with Chatsonic AI prompt library, there's no need to fuss with browser extensions to access awesome AI prompts. 🧩
So, are you excited to kickstart your content creation journey with Chatsonic AI prompt library? It's time to let your creativity shine! 🚀
Thinking about how to use the prompts or how to submit a prompt on this free prompt marketplace? Here's a quick rundown:
To use prompts from Prompt Library
Ready to generate amazing responses using prompts from the Chatsonic prompt library? Simply go to the Public Prompts, select language, category, and more, and explore. Easy-peasy, right?
But with so many prompts, it might get confusing as to which one to pick, isn't it? Well, don't worry! Our editors have made your job easy! 😋
Here's the secret way to find mind-blowing prompts in the library - Go to the Chatsonic Prompt Library and click on the Editor's Choice (you can also call it a treasure box for real! 🎁)
The Editor's Choice section is the collection of best-picked prompts that generates amazing responses. They have been selected and added by the editor for you to save time and 10x your content creation process. And guess what? All you need to do is select the prompt you want, add details, and hit send.
And voila! There you go - Chatsonic generates perfect responses that you can use. 🤩
To create a new prompt
Now that you know how to use existing prompts, let's jump on to how you can create your own prompts and win rewards. Let's go!
Step 1: Log into your Chatsonic account and click on the "Prompts library" option (at the top left-hand corner). This will redirect you to the library, where you can find 4 options to choose from, i.e., saved prompts, personal prompts, public prompts, and editor's prompts.
Step 2: Click 'Add new prompt template' under Personal prompts. A pop-up will appear, asking you for the details regarding the prompt type you want to create. Fill in the details like the prompt title, prompt description, prompt template, language, and category, and hit submit.
After your prompt gets 500+ likes, it will be shifted to the editor's choice, and you will get 20,000 premium words as a reward. 💝
Super easy, isn't it? So, get ready to level up your content creation process, create amazing prompts, and get exciting rewards. 🚀
#2 AIPRM
If you are a marketer, SEO pro, sales ninja, customer support hero, or copywriting aficionado, here's a treasure trove of ChatGPT prompts waiting for you: AIPRM.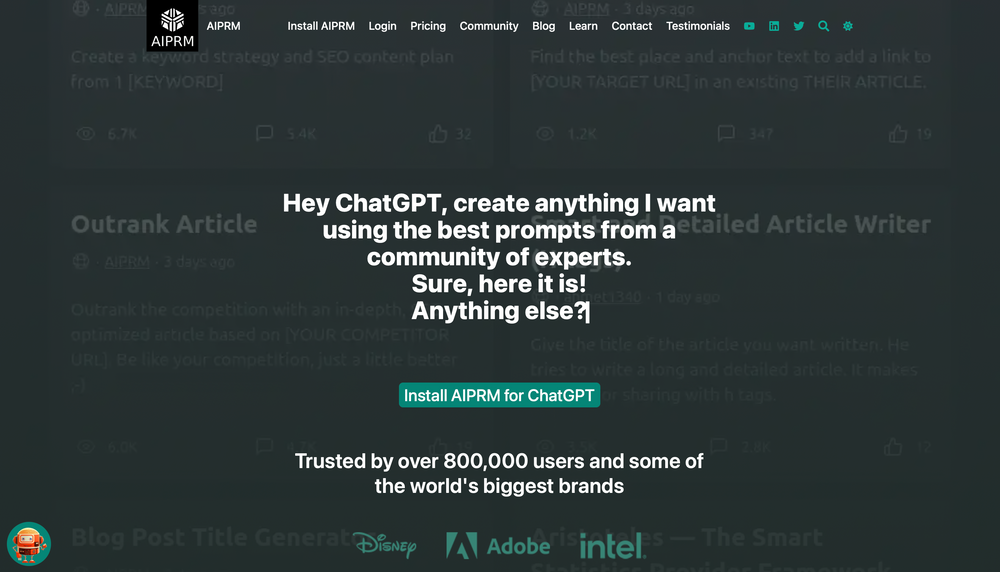 AIPRM
AIPRM is developed by a team of LinkResearchTools and URLinspection.
And guess what? All you need is a click to access a collection of curated prompts that can help you optimize your website, skyrocket your search engine rankings, explore innovative product strategies, and crush it in the sales and support departments for your SaaS.
And here's the best part - You can easily generate prompts using AIPRM for ChatGPT, a Google Chrome Browser Extension. Wondering how? Well, simply go to the AIPRM for ChatGPT extension page and click on the "Add to Chrome" button. Once you're all set, get ready to come up with detailed, well-written, and tested prompts.
No more struggling to come up with perfect prompts; let AIPRM ChatGPT prompt extension do it for you.
💡Chatsonic Prompt Library vs. AIPRMWhen it comes to AI prompt resources, both Chatsonic Prompt Library and AIPRM offer unique advantages. However, Chatsonic offers a hassle-free experience without needing a browser extension, while AIPRM may require additional setup. Next, when it comes to pricing, Chatsonic is a budget-friendly, free alternative to AIPRM, whereas AIPRM comes with a cost for its curated prompts.
#3 PromptBase
Looking to autopilot your content creation game? Check out PromptBase!
This marketplace is all about buying and selling prompts for some of the most impressive AI models out there, like DALL·E, GPT, Stable Diffusion, and Midjourney. Whether you're a creator looking for inspiration or a seller looking to create and upload your own prompts to earn some extra cash, PromptBase is perfect for you!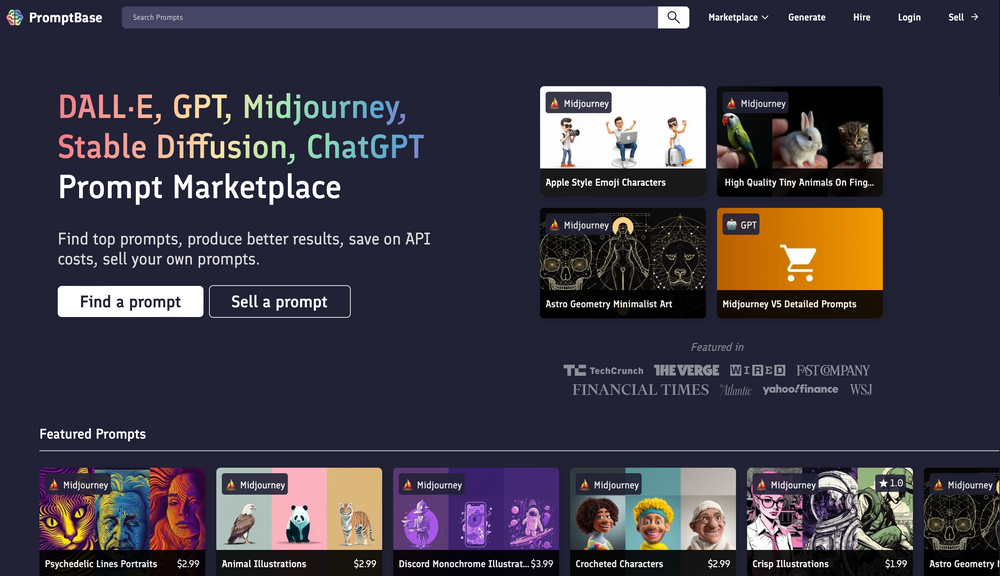 PromptBase
But what exactly prompt, you ask? Well, they're basically sentences or short pieces of text that are fed into these AI models to produce some pretty amazing outputs.
PromptBase keeps 20% of the amount from sellers. So, you get 80% on every sale of the prompt. PromptBase uses Stripe to send out the payment.
Wondering how to price? Well, prices range from $1.99 to $9.99 on PromptBase.
Of course, plenty of other AI prompt marketplaces are out there, but PromptBase is certainly one to keep on your radar. With its user-friendly interface, it's a great option for anyone looking to explore cutting-edge content creation technology.
💡Chatsonic Prompt Library vs. PromptBaseBoth Chatsonic Prompt Library and PromptBase are good. But PromptBase is comparatively new and has a limited database (meaning there are very less chances of you finding the prompt you are looking for). Moreover, when it comes to being cost-effective - Chatsonic Prompt Library wins! Moreover, it gives you the option to create and win rewards.
#4 ChatX
Let's move on to the next gem: ChatX.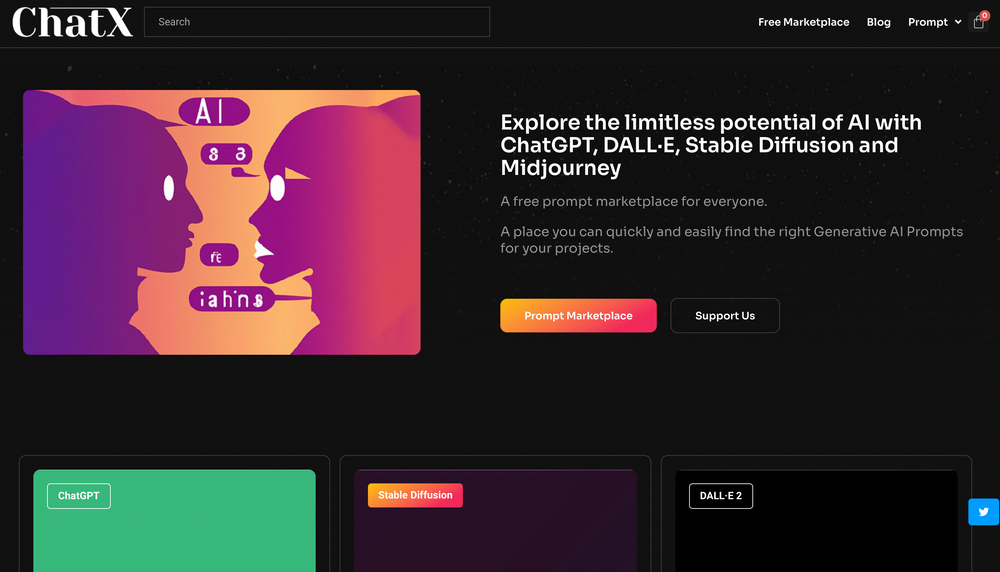 ChatX
This super cool prompt marketplace offers generative AI prompts for ChatGPT, DALL-E, Stable Diffusion, and Midjourney. And guess what? They've even got a blog packed with insider tips and tricks for crafting the perfect prompts for specific use cases.
But wait, there's more! ChatX also features a handy prompt generator that can save you some serious time when compared to manually entering commands into your AI tools. They've got two options available: Midjourney and ChatGPT.
So, if you are an AI enthusiast, entrepreneur, creative professional, or developer, ChatX can be an invaluable addition to your toolkit.
💡Chatsonic Prompt Library vs. ChatXThough ChatX is a good AI prompt marketplace, it has very less number of prompts available (which will hopefully increase over time). On the other hand, the Chatsonic prompt library has a wide range of prompts to choose from. Sign up for the Chatsonic prompt library and explore more.
#5 FlowGPT
Here's another mind-blowing prompt marketplace - FlowGPT - a platform dedicated entirely to ChatGPT commands, and it's all about bringing people together to share and discover top-notch prompts for any use case you could ever imagine!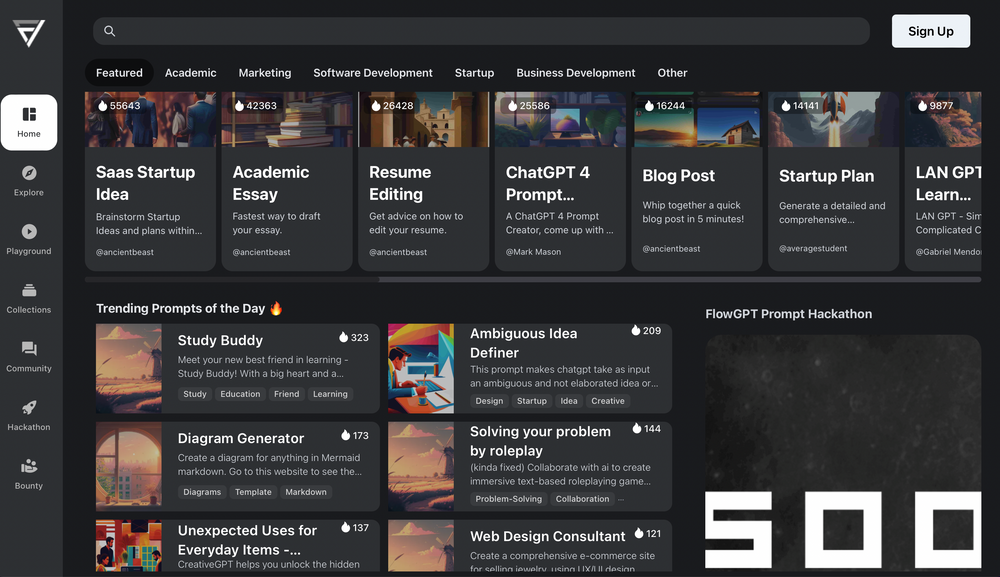 FlowGPT
Here's the kicker: When you find a prompt you like, you can actually give it a test run directly on their website. How convenient is that?
FlowGPT has a vast array of free prompts, which can prove to be a goldmine if you are a ChatGPT enthusiast.
So don't miss out on it, and get ready to explore the amazing prompts!
💡Chatsonic Prompt Library vs. FlowGPTThough FlowGPT is good, Chatsonic Prompt Library has a diverse range of collections and also gives the option to create prompts and earn rewards. And its user-friendly interface and hassle-free access to AI prompts, without the need for browser extensions or additional tools, further enhance the overall experience.
#6 PromptHero
Are you on the hunt for a treasure trove of art prompts? Look no further than PromptHero!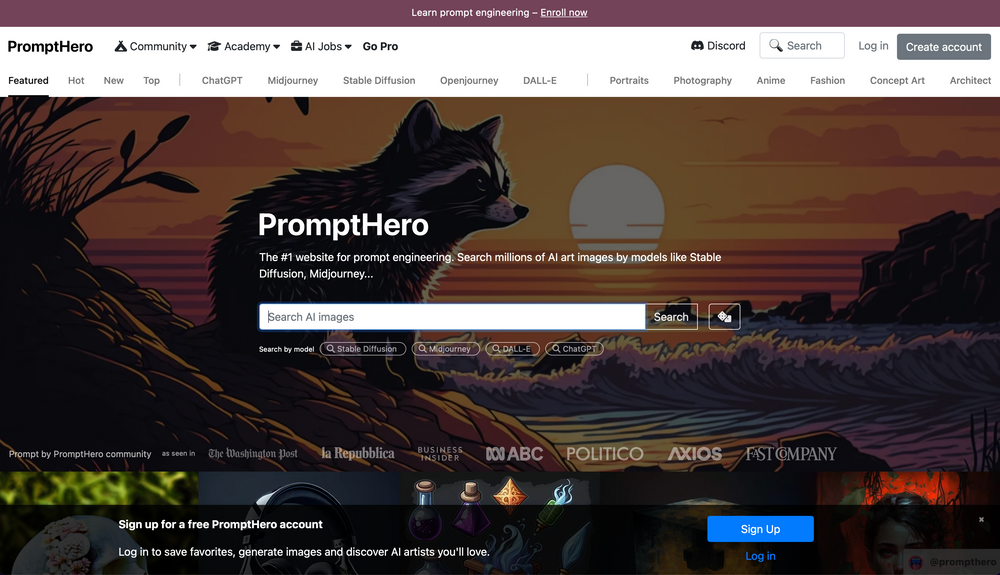 PromptHero
This amazing website offers various free prompts that you can use for AI models like Midjourney, DALL-E, Stable Diffusion, and even their own platform, Openjourney.
And guess what? They've recently added AI prompts for ChatGPT, and it seems they'll be expanding their collection soon!
With a user-friendly interface, you can search directly for specific prompts or filter by model and category – just check out the screenshot to see for yourself.
But that's not all! If you're keen on sharpening your prompt engineering skills, PromptHero offers a course designed just for that. And to top it off, you can create eye-catching images right on their platform using Openjourney.
So go ahead, explore PromptHero, and unlock the full potential of AI-generated art!
💡Chatsonic Prompt Library vs. PromptHeroPromptHero is an AI prompt marketplace only for art prompts. However, if you are looking for an AI prompt marketplace for both text and art, Chatsonic AI prompt library can prove to be a better option. Moreover, there's also an option to create prompts and win rewards.
Harness the power of the most versatile - Chatsonic Prompt Library
The AI revolution is well underway, and AI prompt marketplaces are playing a pivotal role in unlocking the full potential of AI tools like ChatGPT, DALL-E, and Midjourney.
Each of these top 6 AI prompt marketplaces offers unique benefits tailored to different user needs. However, Chatsonic Prompt Library stands out as a versatile, user-friendly, and cost-effective option with the added bonus of engaging users in prompt creation and rewarding their contributions.
So, go ahead and explore this amazing platform, find the perfect prompts, create your own prompts, and let your creativity soar with the power of AI!